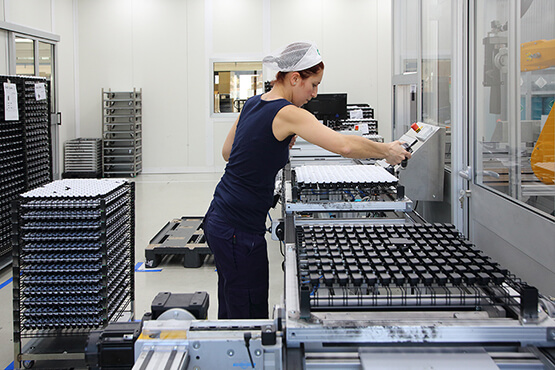 Bringing out emotions from an object
Seristudio paints small- and medium-sized plastic items with water or solvent-based paints, applying traditional or UV techniques.
The latter differs from the traditional thermal painting process in the polymerization stage, which occurs with UV-rays.
This process requires the control of an increasing number of parameters with stringent tolerances.

Based on our customers' requirements, the company uses water- or solvent-based paints on different materials, thereby ensuring excellent aesthetic results.
Seristudio's painting processes avoid polluting metal and plastic surface treatments (e.g., chrome plating). All this in compliance with the guidelines and European directives about the environment, energy, and the recoverability of products.
For the company's team of painting experts, this is one of the most important processes and is carried out in two plants. This process is automated, as Seristudio uses anthropomorphic robots, which run in environments where all the stages are designed in-house.
Seristudio applies UV technology to an increasing number of processes. In fact, this method ensures excellent results and high performance, which should not be underestimated.
Seristudio's cleaning equipment use deionized air with plasma and CO2 to optimise the entire pre-treatment process, which reflects on the item's geometry. This equipment is controlled by anthropomorphic robots, which further improve the already excellent results of this stage.
What makes Seristudio's painting system so special is the in-house designed rotation system. This system removes any risk of "overspray", which is a common problem in the Automotive industry. The company' Staff di can also paint with mixed polymerization cycles (UV coating + thermal painting).
Seristudio has also designed its dosing system, which ensures high-quality standards.
The painted items undergo a thermal process inside the ovens, where an effective automatic air control and the re-circulation system ensures the best drying results.
The company has also included UV coating in its processes and this makes Seristudio particularly renowned in the industry.
This technique speeds up the drying process, as, together with lamps of different power ratings (mixed cycle), it allows the company to reach the highest quality in the painting industry.
This strategy allows Seristudio to make sure the following:
absolute homogeneity of the batches both in thickness and gloss;
a top-quality aesthetic effect with a low percentage of waste also for high-gloss finishes;
metallized finish;
chrome-plated finish;
black surface finish;
industrialization speed and flexibility for new products and technologies.
All these achievements have been possible also thanks to the collaboration with Europe's greatest experts in the various sectors.
These experts have assisted Seristudio in the various research and development processes for years. This collaboration allows the company to have an organization capable of analysing every single case and solve any problem.