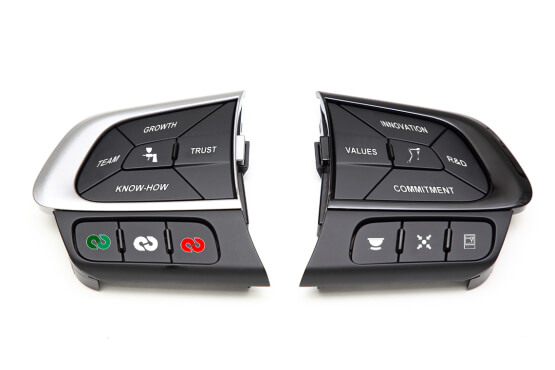 State-of-the-art decoration in the automotive industry
Seristudio has always aimed at being the leaders in the Automotive industry and all industrial sectors that need the highest quality standards when it comes to painting and decorating plastic items.
That's why the company decided to use state-of-the-art technologies for decoration processes of the highest quality, ensuring greatest productivity and affordability to our end customers.
Right from the beginning, Seristudio has developed partnerships with its Customers and used motivated and competent human resources to meet their requirements.
The company has developed exclusive technical and technological competencies in painting and decoration processes. This allows Seristudio to design, manufacture, and control the most efficient painting systems for flexible productions of the highest quality in-house.
Seristudio is the best when it comes to treating and managing small items. The company has achieved the following results:
Over 35 million components delivered every year;

A production capacity of over 75 million components with UV paint;

Excellent production scalability;

An ISO/TS 16949 and ISO 9001 certified organizational model, which ensures measurable and repeatable quality.
Car manufacturers need qualified suppliers of assembled plastic materials (dashboards, wheels, doors, etc.). Moreover, the aesthetic finish of components to be integrated into their finished products needs to be perfect.