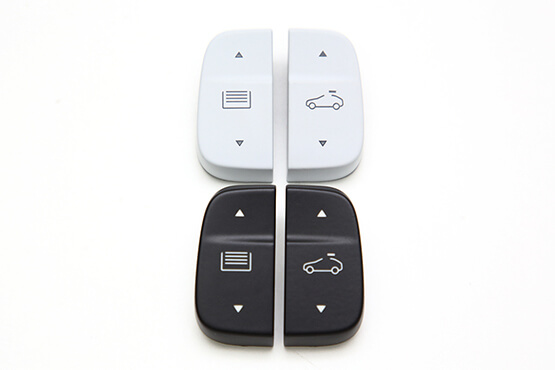 Quality and high-precision for laser marking
Laser technology and, more precisely, paint and ink removal from manufactured goods, are the best in the Automotive market, as it allows the etching of symbols and drawings on painted items.
Seristudio has invested in 7 state-of-the-art machines for the laser marking sector.
These machines allow the company to achieve the highest precision. Seristudio is a major Italian supplier of "Night & Day" painted products, demanded in the Automotive industry.
Moreover, the company has recently invested in next-generation laser sources (Rofin and Foba). These innovations keep Seristudio competitive in production, quality, and performance, and help keep the industrial costs low. For this purpose, the company uses also "self-centring cameras". These are high-quality cameras, which allow for greater precision in the repeatability of every single piece.
The combination of different inks and paints creates complex situations. So, some aesthetic results are difficult to achieve.
But, this has never been an obstacle for Seristudio, over time, the company learned to stand out in the Automotive industry providing the following:
laser markings on red paints;
selective laser markings (i.e., we eliminate only one layer of paint on a previous layer of paint/ink);
laser markings on metal-effect pigments;
laser markings with a centesimal geometric tolerance of the position and graphic composition of the ideogram on the piece.